Effective tips to win the tournaments
|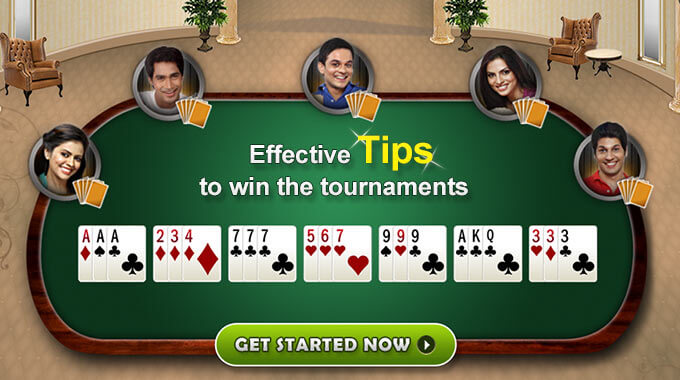 At any point if you ask a rummy player the factor which he finds intriguing in online rummy, his answer would be rummy tournaments. Rummy tournaments are a genuine long-term hardship and skills of a player. Likewise, there are a lot of chances to win genuine cash prizes also.
Whenever you join a rummy tournament you will be hollowed against a flood of players across India, so it is critical you have the important abilities to counter them. Let us see what it takes to become a fruitful rummy tournament player. You download the rummy app to have the best rummy experience.
Abilities
In a nation like India where card games are seen with hostility, a diversion like Rummy is taken after fiercely simply because it is expertise based. The Supreme Court even recognized that rummy is a skill based game and declared it as legal to play. Indian players have a propensity for skill based games and rummy being one is finding a considerable measure of takers.
You can enhance your rummy skills just by practicing. For this, you should hit the practice tables once you enroll. Playing practice games gives you a decent involvement in managing different card blends. Exactly at that point you will have the certainty to confront extreme rivalry and hardships in rummy tournament. You can elude the articles on rummy tips and strategies to know more.
Registering
We always encourage our players to register their names when the enrollment for a tournament opens. Numerous players have the propensity for procrastinating when it comes to enrollment. Eg: if the enlistment of a tournament opens by 2.00PM and closes by 4.00PM, we see players hurrying in ultimately for enrollment. This demeanor is confounding particularly when they had a strong two hours for registration. Regularly in such cases, they return disappointed as the tables are full. Likewise shows the callous disregard for the principles and an agreeable laid-back attitude that are a strict "NO" while playing Indian rummy game. We generally work on first-come first serve basis, so on the off chance that you miss the registration you just have to fault yourself.
Online social networking status
On the off chance that you are a sprouting player, it is vital that you follow us via social networking media websites like Facebook, Twitter, Instagram etc. As you may know that, online networking pages are not only for fun or entertainment, it is turning into the true mode for publicizing all the organization's activities. You can take a look at Facebook page for all reports with respect to forthcoming tournaments and offers.
Have a watch on your rivals
Rummy tournaments are where you will discover players from all kinds of different backgrounds. You never think about the qualities and shortcoming of your adversaries so it becomes crucial that you generally play to your strengths. Never permit any distractions or outside impacts that may obstruct your advancement to the consequent rounds while playing a tournament. Just when you regard the game, you can win favors from it.