Win Money by Playing Rummy on Your Mobile
Over the past few years, there has been explosive growth in the number of smartphone users in India. The online gaming world has learnt how to capitalize on this boom by making games mobile-friendly. RummyCircle.com took on the challenge to be the pioneering mobile site offers Indian rummy game. Today, you no longer need to wait to be at a computer or tablet to play the game and even win cash prizes. You can also chat with the competition, without fearing invasion of your personal space, since all chats on this site are monitored. RummyCircle.com is 100% legal and SSL secured for your safety.
All you need to play mobile Rummy and win cash conveniently is a 2G, 3G or Wi-Fi connection. The gaming interface is of prime quality, easy to navigate and highly responsive in order to give you the best game playing experience. There is no hassle of downloading an application from the play store. You can simply visit the webpage and start playing for free. There are a few free tournaments that allow you to win cash as well.
To try and win greater amounts of money, you can simply join a paid tournament. Those with an Android-based smartphone can simply visit the site on Google Chrome and Opera Mini Browser. iOS support is due to arrive soon. Due to a vast customer base of around 2 million registered Rummy players, RummyCircle.com rarely sees a dull moment, with players ready to play with you at any time of the day or night. You can choose to play 13 cards pool rummy or 13 cards points rummy at the mobile/tablet enabled site.
In fact, RummyCircle.com is the only mobile website that allows you the complete freedom to add and withdraw cash from your cell phone. So, this is the only platform where you can enjoy Rummy cash game on your mobile or tablet.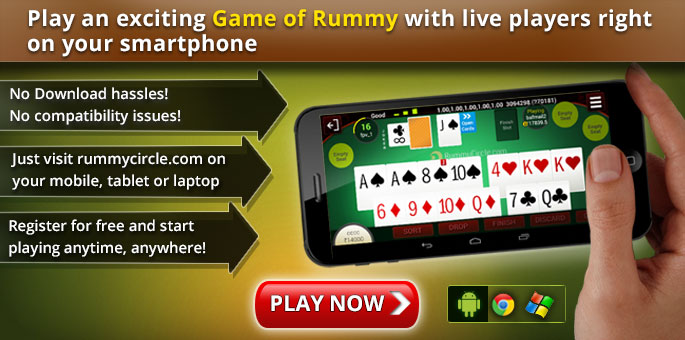 Join a Tournament for Bigger Cash Prizes & Be A Rummy Star
RummyCircle.com offers you a chance to choose from multiple tournaments. You can opt to play mobile Rummy and win cash conveniently by entering the top tournaments. share your reviews, feedback with us and be a rummy star. Some tournaments require the payment of entry fees but they also come with huge cash prizes. Here are a few popular Rummy tournaments that you can enter via your mobile:
Club Tournaments
 Reward Point Tournaments
 Multi-table Cash Tournaments
 Sunday Masters
Make sure you check out the bonus offers and deals. Also, your web chrome and opera mini browsers must be updated to at least 3.1 and 12.1, respectively, for the best experience. The Android OS should be above 4.1. The best part is that the more you play, the better you get at it, which in turn means that you enhance your chances of winning big.
About The Author
RummyCircle Blog
RummyCircle is an ultimate destination to Play Rummy Online with friends, family and millions of rummy players. Enjoy the Best Rummy Experience!