Push the Mute Button for Daily Annoyances with These Tricks
|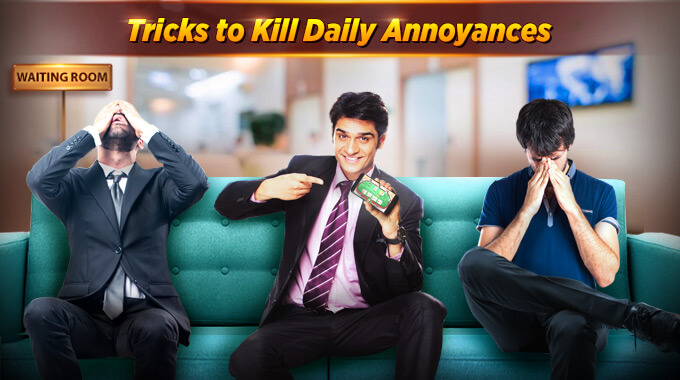 There are some things that can be totally annoying and unfortunately, they keep on occurring in our day to day lives. Even though you may not be able to remove all of these annoyances from your life completely, there is definitely smart tricks that can help you escape them. So, press that mute button for the most annoying things in your life and beat the stress factor.
 People Walking Too Slow In Front of You
When you are in a hurry, the world seems to slow down. Worse, when they STOP right in front of you abruptly. Yes, you halt right in your tracks and then try to find another way out. You are definitely irritated, and if you have missed your ride to office then worse! Rather than getting completely furious, here is what you can do.
Move lanes and start walking on a different one
Explain you are in a rush and push your way out
If you have some time to spare then move to a corner, play rummy online. Hopefully, the slow people would have moved out by that time and you can speed up once more.
Advertisements
Even though we get quick bits of information from them, they can be pretty annoying especially when they come up in between games and your favourite shows. There are two smart ways to avoid this annoying factor. For your favourite shows, you can record them and then play later. You will always have the option to skip the advertisements this way. For your dear games, well RummyCircle is advertisement free. So, you can play as much as you want, without getting interrupted.
Email Spam
Well, the spam folder always seems to be running longer than your inbox folder. Every time you share your email id for those promotions and newsletters, you get a bunch of spam mails. So, what to do about it? Well, simple things, put filters in your antivirus solution and avoid sharing your email id with random promotion offers. This will limit your spam mails.
Getting in a slow bank or supermarket line
Even though most of our activities have moved online, there are times we find ourselves behind slow queues like ATM, supermarket and sometimes even banks. Yes, it can get so annoying to just stand there and do nothing. Remember the time of demonetization? Our guess, you spend a good amount of time queuing up the ATM. Well, if you are again finding yourself in a similar situation then one of the best ways to get something entertaining and useful done is play 13 card rummy on your mobile. You will not get bored, with the right strategy you can win real money, and get entertained for the whole time.
Power cuts
With the heat wave increasing by the day, power cuts become a common problem. They can really bother you, make you feel miserable and stuck and no matter what you try, nothing works for your respite. But there is one thing that can make things simpler for you. Well, just take out your mobile, get your data pack started, download the rummy app and get going. It will take your mind away from the heat and make you win some real cash rewards as well.
Well, yes these things are annoying and keeps bothering us from time to time, but there are small things around us that come to our rescue and give us that much needed respite.
Also Read –
Best Real Money Earning Games You Should Not Miss In 2018