About Games24x7.com (Now RummyCircle.com)
|
What is Games24x7.com? (Now RummyCircle.com)
RummyCircle.com (formerly Games24x7.com) was founded to bring to India the fun and excitement of on-line, multi-player games of skill that can be enjoyed 24X7. In the starting years the company was focused on building a scalable multi-player platform which can host thousands of players in real time in any skill based game like Rummy, Chess, Pool, Carom etc. In 2009 March, the website was opened for public BETA with the online rummy game and in a short time period
RummyCircle.com (formerly Games24x7.com) became India's favorite Online Rummy destination.
What is Unique about RummyCircle.com (formerly Games24x7.com)?
The ability to connect, chat and play with your friends, family and numerous rummy fans across India for free or for real money makes it India's favorite's site!
Multi-player knock-out tournament format with real cash prizes differentiates RummyCircle.com (formerly Games24x7.com) from others. This scalable format allows players to match wits in fast paced competitions where winners earn real cash prizes. Our games focus less on manual dexterity and more on mental challenge, while at the same time requiring quick reaction and decision making.
We are currently offering 13 Card Rummy, the most popular card game in India, which most Indians learn to play as kids. Rummy is a "skill based" game that has been expressly approved by the supreme court of India. We will soon be adding more skill based games to our product set as we endeavor to provide friendly and light-hearted competitive entertainment to our players.
What are Rummy Tournaments?
Rummy tournaments are offered in the knockout format identical to the skill-based competitions like T20 Cricket, Wimbledon and French open tennis tournaments. Winners in one round move to the next round and so on till a final winner emerges. All players have a skill rating based on their past performance. This skill rating is determined using the US Chess Federation rating system and is updated after every tournament.
Figure 1 – A sample 8 Player Rummy Tournament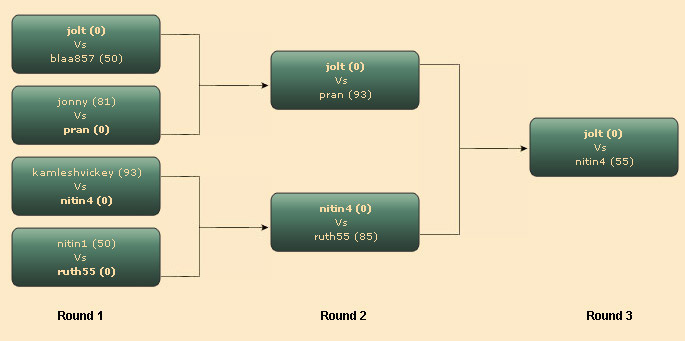 Identical to Wimbledon and the French open, this skill rating determines the seeding for players in each tournament they play, which in turn determines who they will play.  All tournaments have a skill rating range associated with them.  Players have the choice to decide what tournament they would like to play based on their skill rating and the permissible skill rating range for a tournament.  We offer two types of tournaments under this format. Learn more about rummy points system.
Some of the most loved Rummy Tournaments on RummyCircle.com (formerly Games24x7.com) are:
Practice Tournaments – Free to play, running 24X7.
Cash Tournaments – Friendly games start at just Rs. 5.
Promotional Tournaments – Special tournaments designed for our new players as well as our regular players and premium club members.

Mega Rummy Tournaments – Small entry fee, Big cash prizes.
Jhatpat Tournaments – Designed for beginners
Is playing on Rummy on RummyCircle.com (formerly Games24x7.com) legal?
Absolutely! All games offered on RummyCircle.com (formerly Games24x7.com) are games of "skill". The relevant law in India is absolutely clear that, unlike games of "chance", games which substantially require a player to apply his skill are absolutely legal.
In 1968, the Honourable Supreme Court of India ruled that games like rummy, chess, bridge and carom are games of skill making them perfectly legal under the current laws. All games hosted by RummyCircle.com (formerly Games24x7.com) are carefully designed and the jurisdiction of prize winners is strictly monitored to ensure legal compliance with relevant laws currently in force in India.
If you are accessing this site from Assam or Orissa, we hope you will enjoy our practice tournaments. However, the law in these two states is unclear on playing games of skill for cash prizes. You are therefore prohibited from playing cash tournaments on www.RummyCircle.com (formerly Games24x7.com) from any of these states. Read rules for rummy mentioned on site to be rummy winner!