Celebrate Independence Weekend with Freedom Bonanza
|
As the country celebrates its 69th Independence Day, we at RummyCircle give you something extra to cheer about – The Freedom Bonanza.
You already ha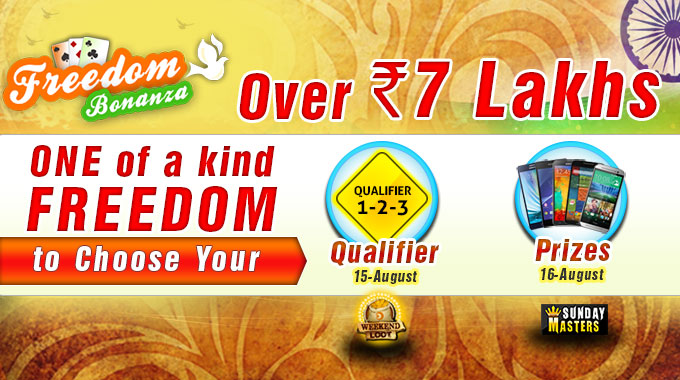 ve the freedom to play whenever you want. We are going a step further and giving you the freedom to choose your gift when you win!
On Saturday, August 15, you can play Weekend Loot Freedom Qualifier with cash prizes of Rs 2.5 lakh! No qualifier has been this big so far. The entry is absolutely free for all cash players. To be counted as a cash player, the user must have made at least one cash deposit and should have played minimum one cash game before the tournament.
The Freedom Qualifier starts at 3pm on Saturday, August 15 with a prize pool of Rs 2.5 lakh. And if you qualify, you get free entry into the Weekend Loot Grand Finale @ 9 pm on the same day with cash prizes of Rs 1.5 lakh! That's a total of Rs 4 lakh to be won in one single day. It definitely is the biggest freedom offer by RummyCircle so far.
There are 2 other Qualifiers to enter into the Weekend Loot Grand Finale, but they have an entry fee of Rs 100 and Rs 500 with more than Rs 2 lakh in cash prizes. For more details, click here
That's not all. To take the spirit of freedom a step further, we are also offering top 2 winners the freedom to choose their prize. In the Sunday Masters Tournament, the top 2 players will have the freedom to choose which mobile phone they want from a list of 5
Samsung Galaxy A5
Sony Xperia Z2
Samsung Galaxy Note3
Moto X (2nd Generation)
HTC One (M8 Eye)
Now that's freedom in the true sense. So don't wait and become a cash layer on RummyCircle today. There are only 13,000 seats for the Freedom Qualifier. And since the entry into the tournament is free, it is first come, first serve basis!
Plan your Independence Weekend right now!