5 Things you should NOT do in Rummy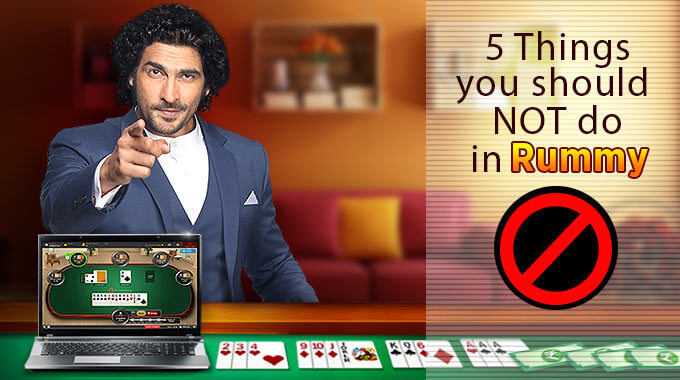 Rummy looks challenging and this is the reason some people avoid giving it a shot. However, you can win rummy games with confidence, once you get the rummy rules right and play the game right. However, there are some things that you should never do in rummy. Do you know what they are? Check these 5 things that you should avoid in rummy at all costs.
Don't play in Haste
Rummy games can move fast and the big tournaments can move slow as well. It is important to play the game with speed, but you should never play rummy when you are running short of time. Every move you make counts in this game. If you are in hurry to end the game, there are high chances that you may make the wrong move and lose even a winning game.
Don't chase your loses
Playing cash games and rummy tournaments should always be within limits. Never go overboard and play higher than your capacity. If you have lost cash games, don't play to balance out your loses. You are just investing more of your cash. Chasing your loses is a poor rummy strategy and should be avoided at all costs. The best thing to do in such circumstances is to give yourself a break and then play when you are once more confident about your game play.
Know your rules
It is exciting to win cash games and there is no denying that. However, before you play for cash, know all your rummy rules properly. Without the clear understanding of the rules, you will not be able to win the games and may make mistakes while making a declaration. Further, go through some tips and tricks as well, to enhance your rummy skills much better.
Don't discard your Joker
Even though it seems as the most handy card of the game, some players discard a joker thinking that all other cards are more crucial. This happens especially, when you are beginner rummy player. However, one of the things that you should never do in rummy is give away your Joker. Once, you have discarded your Joker, you can't pick it up again. Hence, it is an opportunity wasted. Instead, do away with a high value card and replace it with a Joker. This will also help you in forming your sets fast.
Don't play with unstable internet connection
All rummy games are played with live players. So, if your internet connection is unstable, then there is high chance that you may lose on a move or even drop out from the game unwillingly. It is okay to have a limited internet connectivity like 2G connection, however it has to be stable. Without a stable connection, playing online rummy should be avoided at all costs. Rummy game download to play anytime anywhere on your mobile phone.
So, the next time you play rummy games, keep these important factors in mind and then play the game with confidence.
About The Author
Vaibhav Aggarwal
Author, blogger, marketer for RummyCircle.com platform which is the largest platform to play online rummy in India with more than 10 Million registered players.