Getting Started
Pool Rummy Cash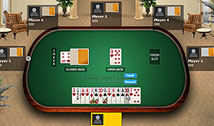 Play Pool Rummy for Cash
Pool Rummy - the rummy you know and love, can now be played for Real Cash on multiplayer tables.
In Pool Rummy, players join a table by paying a fixed entry fee which forms the prize pool. With Pool Rummy, you get to enjoy more rummy time per table.
Recreate the magic of your local rummy club online with Pool Rummy. Start playing for cash and win larger amounts of money at stake!
Our Payment Partners