Help

RummyRewardzTM Points Rummy
Q) What is RummyRewardzTM?
RummyRewardzTM is our brand new Loyalty & Rewards Program that truly rewards you for playing on RummyCircle. It opens up a world of benefits where you have the power to earn rewards and use them in ways that matter to you.

The whole program revolves around just one thing that you love doing - playing rummy! This is how it works: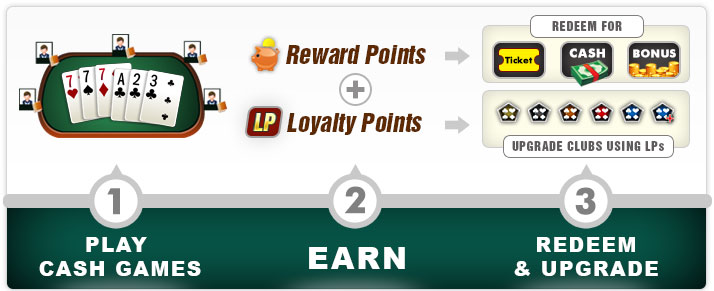 Q) What are Loyalty Points & How to earn them?
All participants of a Points Rummy game will get Loyalty Points equally. This is calculated as:
Loyalty Points =(Point Value * Total Points won in a Game) / (50* Number of Players in that Game)
E.g.:
There are 5 players playing on a table. Assuming the pre-decided point value for that table is
r
10 (this value will be visible in the tournament list before you join a game) and 1 player declares, a sample score chart will look like:
Total Score
Point Value
Cash Won / Lost
Player 1
0

r

10
750 - RummyCircle fees
Player 2
10

r

10
-100
Player 3
15

r

10
-150
Player 4
20

r

10
-200
Player 5
30

r

10
-300
Loyalty points calculation =750/(5*50)= 3 LPs
Every participating player in that game will get 3 Loyalty Points.
Q) What are Reward Points & How to earn them?
Reward Points are the redeemable currency earned in every cash game. 1 Reward Point is earned for every 1 Loyalty Point that you earn.
Reward Points can be redeemed for attractive rewards like entry into tournaments, lucrative bonuses or real cash!
Q) How are Bonuses Earned?
When RummyCircle.com gives out an earnable bonus offer, you need a certain amount of 'Bonus Spend' to earn that bonus. The Bonus Spend can be accumulated by playing Point Rummy format.
Calculation of Bonus Spend in Points Rummy:
Bonus Spend Calculation in Points Rummy =(Point Value * Total Points won in a Game) / (Number of Players in that Game)
E.g.:
r
200 bonus is offered to you. To earn the bonus you need to have a Bonus Spend of 10 times the bonus, i.e.
r
2000. Assuming you are playing a 5 player game with point value
r
10 ,your Bonus Spend is calculated as:
Total Score
Point Value
Cash Won / Lost
Player 1
0

r

10
750 - RummyCircle fees
Player 2
10

r

10
-100
Player 3
15

r

10
-150
Player 4
20

r

10
-200
Player 5
30

r

10
-300
Bonus Spend =750 / 5 = 150
For more information on RummyRewardzTM program, please refer FAQs. Find more about the program's Terms here