Card Games
Mobile games for android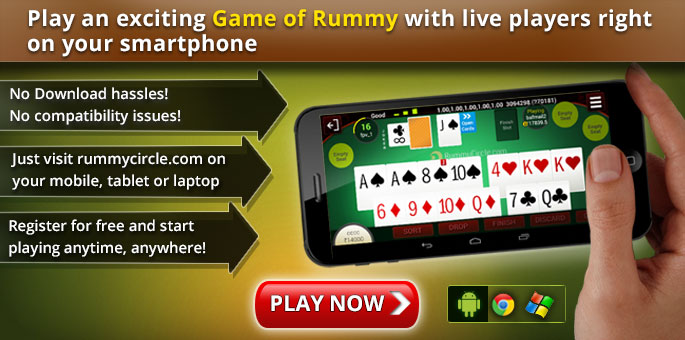 If you have an Android OS, you would know how difficult it is to find suitable free games and apps. Understanding your requirement, we have introduced India's fastest Mobile Rummy App for android phones. Now enjoy the game anytime, anywhere and let the speed blow you away.
The game is very engaging and exciting since it requires some strategic thinking and planning. It will surely keep you coming back for more!
The Games People Play!
Rummy is now even more entertaining because you can play with real people anytime and from anywhere. And you have two options to do this.
You can either play on RummyCircle.com's mobile version of its platform or
You can download the ultra-cool app designed specifically for the android phones. You could be on a long journey or sitting at a cafe waiting for a client to arrive; just pull out your smartphone and enjoy a game of rummy while recharging your grey cells. Isn't it exciting?
While there are hundreds of Android apps, it is not recommended to download free games on your mobile without discretion. However, this mobile Rummy app is designed for your convenience in every way. It's easy to download, has a more appealing interface, is smoother and is one of the fastest apps. Though it is only meant for android phones, we have our dynamic mobile website for users of iPhones and other operating systems (m.rummycircle.com). Our main focus is to provide impeccable game experience for android and non-android users. And we do this by providing the very best mobile game for android and all other operating systems.
The Real Fun of Rummy
Apart from enabling you to play while on the go, this mobile game for android is very easy to use. You can register for free and start playing immediately. This game offers you 2 modes to play a) Practice where you learn the game or hone your skills b) Cash games where you play with real money. In fact, you can even participate in tournaments that have free entry and walk away with cash prizes! There are various versions of rummy that you can try out, including 13 cards rummy, pool rummy and deals rummy.
What's even more exciting is that you play with real people. You can interact with them if you wish. All this is possible on RummyCircle's mobile game for android. So don't wait. If you have an android phone, download the app by giving a missed call on 08080894422 or Click on this link from your Android mobile handsets and let the roller coaster ride begin!